Time is always an equal opportunity factor. Each human being has exactly the same number of hours and minutes every day. Rich people can't buy more hours. Scientists can't invent new minutes. And nobody can save time to spend it on another day. Time is always fair and lost time is never found again. Here, we introduce you to the best 20 apps to save your time. Because if you want time, you must make it.
Zoho Project: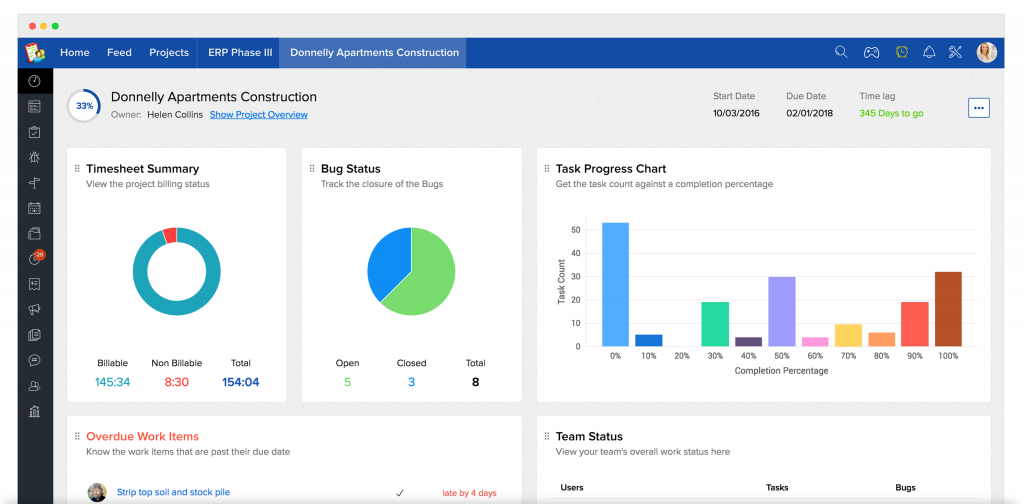 Zoho is a smart web-based planning and management software. It is an effective tool to maintain workflow. It offers you plenty of features to plan your tasks with ease. You have detailed visualization of your projects through charts and reports. A collaboration tool enhances communication between teams. All team members can keep track of time and easily log their hours. Each team member can have access to organized and updated documents of all tasks, lists and reports through unique documents tools.
Basecamp:

Basecamp offers you better management of your tasks and enhances communication between team members. The app is beyond management traditional problems. You can enjoy an innovative package of features to organize and collaborate workflow. Expand your small business and achieve more work done quicker and better. The app provides a single location for all your messages, files, to-do lists and timeline. Basecamp organizes your tasks and keeps your team on the same page.
Google Calendar: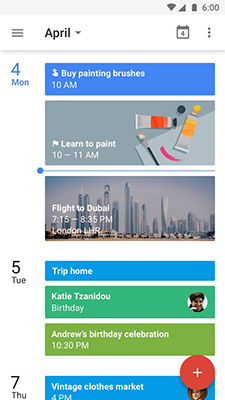 Google Calendar is a simple online calendar. The smart calendar helps you to organize your tasks and manage your important events and deadlines. Reminders along with your to-do list grants you a professional level of organization and productivity. The calendar reminds you of meetings, declines, events, flights and business outings … In addition to any important tasks. You can choose the calendar views that suit your style. It is easy and quick to navigate inside the calendar. The calendar can automatically schedule your events and set future goals that retaliate with your preferences.
ClockIn Portal:

ClockIn Portal is your super easy and super smart online time clock. It is an online clock in and clock out app that lends you a hand to track working hours and productivity. The unique and friendly interface of the app makes it easy to use. It is a brilliant solution for startups, growing businesses in addition to virtual offices. It goes beyond traditional systems and offers you an automated level of project management. ClockIn Portal provides you with reliable access points, effective time tracking and user management options. You no more need to waste time preparing boring and burdening payrolls. ClockIn Portal provides you with a brilliant software to calculate payrolls, vacations and to generate organized timesheets with easy online access.
Casual.PM: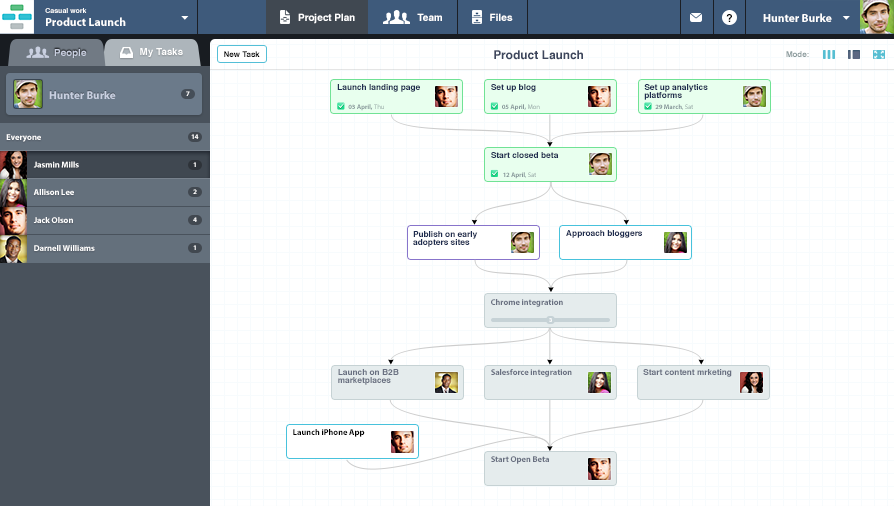 Casual.PM is a simple online project management tool. The app meets the need of project management and rapid workflow. It is perfect for startups and small teams. It enables you to manage various tasks easier. In case you are not in favor of charts, Casual.PM replaces them with groupings of visual icons which help you to keep organized and increase productivity. The app's design provides you with brilliant tools to plan your projects and keep a noticeable workflow. You track your time efficiently and stay in control all the time.
Trello: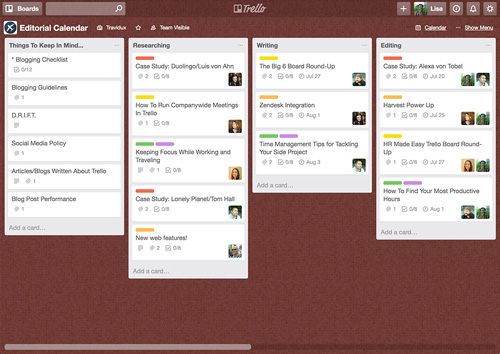 Trello enables you to organize and manage your projects in a flexible and creative way. The app comes with a variety of boards, lists, and cards to provide a real structure of work management. It is great for small teams that need to share simple lists. Enjoy innovative and amusing visual platform to collaborate over tasks and projects. Trello cards divide and break down all details and attachments. The app enriches dynamic communication of the team and boosts productivity. Trello provides a better management for better results.
Asana: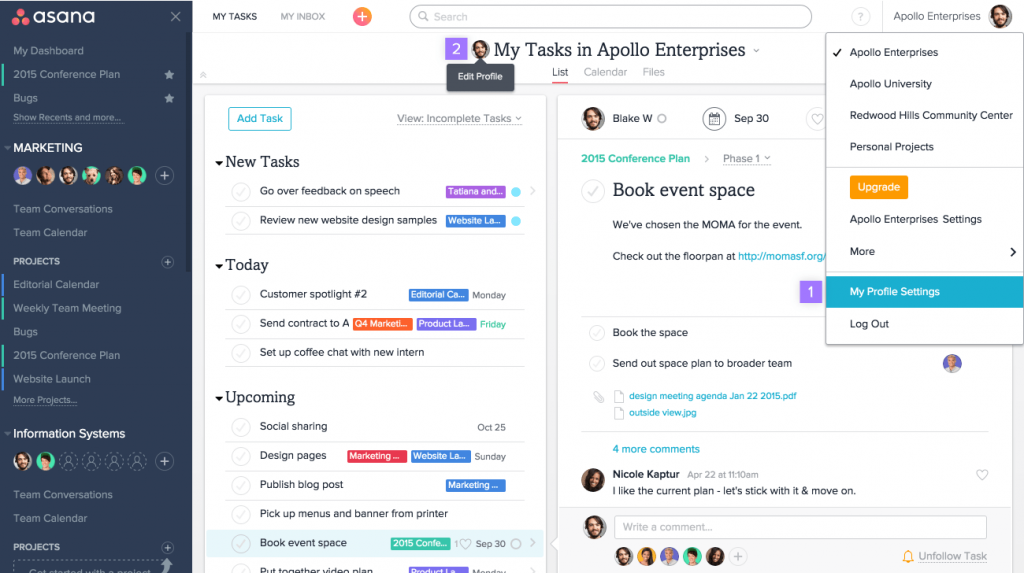 An intelligent web-based and mobile software. Asana app enables you to track your work and achieve better results in an easy way. It is user-friendly and anyone who can send mails and make a list can use it. It organizes your projects through tasks, conversations and dashboards. Asana offers you many innovative features that save your time and effort. Whenever work gets complicated, Asana offers you brilliant solutions to manage and organize everything for you and your team.
Freedcamp: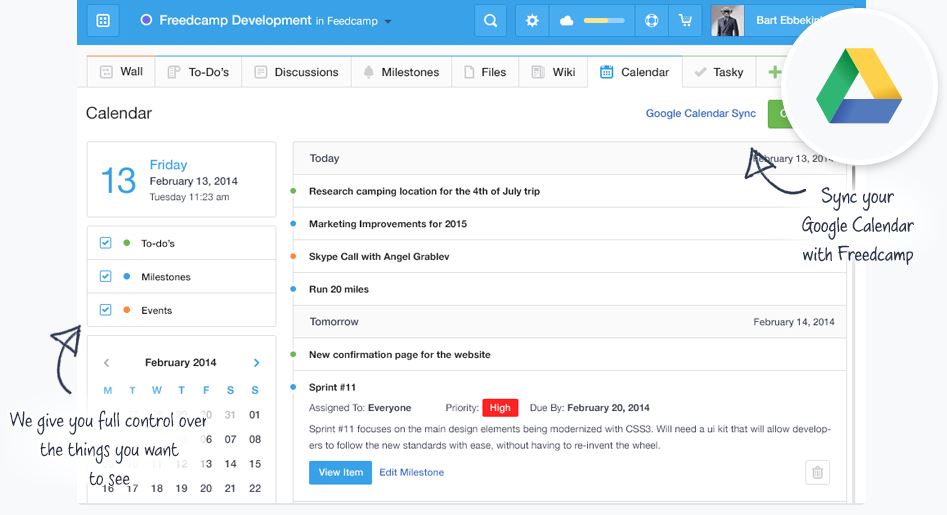 A unique freemium software to manage your business! Features like tasks, milestones, discussions and time tracking organize your tasks and offer better collaboration. The bulletin board feature and drag-n-drop status update are among its very popular features. Freedcamp provides you with very convenient and effective tools to collaborate with your teams. You can manage files and plan projects. You can access Freedcamp from any place to manage your business. The app is very easy and offers many solutions to meet your innovative ideas.
Wrike:
Wrike is an advanced business management app. It provides users with organized workflow display, effective time management solutions and smart features of project management tools. Enjoy visual reports, dashboards, request forms, project visibility and time tracking. Your team will collaborate better through discussions and collaborative task description editing. Real time feed of all project activity enables you to prioritize your tasks. Wrike boosts project visibility and accountability to better fit the way you work. So, you end up having a better productivity and better final results.
Podio: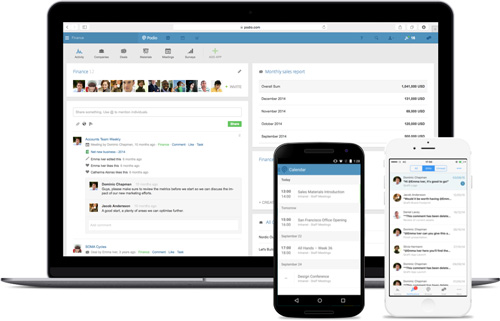 Podio is a smart business management solution. You have almost everything the workflow needs in one application. Podio empowers management through organized documentation. It provides your team easily with all information to accomplish tasks. It highlights prior tasks through an advanced workflow feature. The app supports high data flow in order to assist the rapid rhythm of workflow. It provides you with easy administration control. In addition to fast communication and the option to tailor features to accommodate your business preferences.
OmniPlan: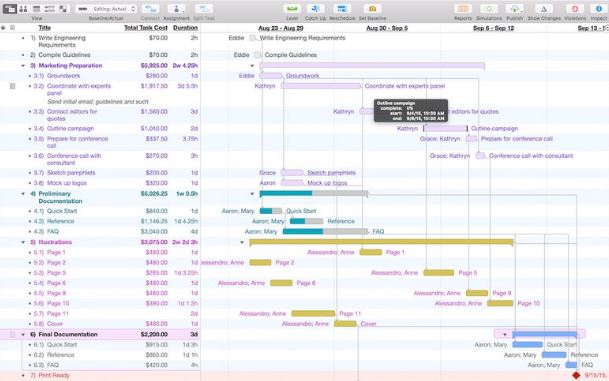 OmniPlan guarantees that your meetings and schedules are going as planned. The standard app provides users with essential project management tools. Through Omniplan you can visualize and manage the progress of your projects. You can also announce tasks and share them among your team. The app provides you with monitoring options, charts and diagrams. It is applicable for both Mac and IOS operating systems. It offers advanced tools for advanced task management and enables you to manage your projects professionally from the beginning till the end.
ActiveCollab: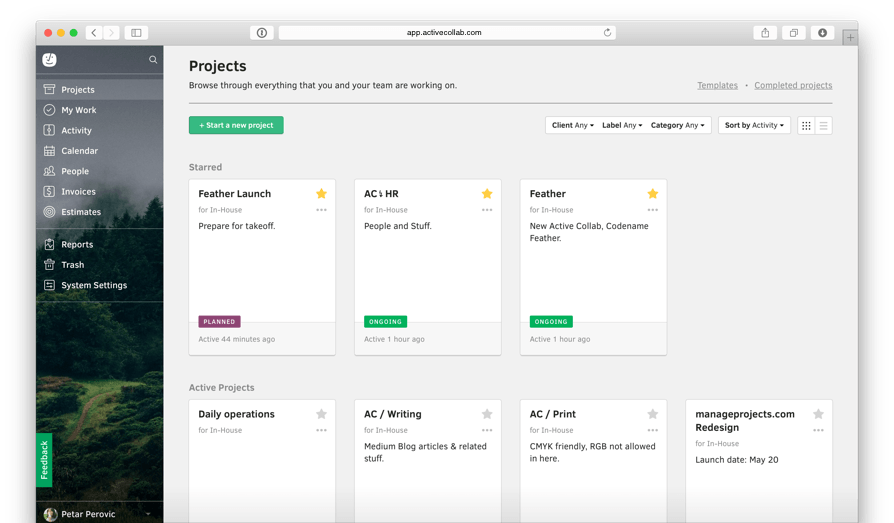 ActiveCollab is an advanced but simple project management tool. It is convenient to boost internal communication and to enhance project management. It keeps you organized, through a professional to-do list and a project tracking criteria. The app enables you to share and collaborate tasks with your team and have better communication. You can track every minute of your work and deliver accurate reports. It assists you to save time and money through an innovative time and expenses tracker. In addition to a smart package of features that supports your business and keeps you on the beam. It can be a real relief from traditional workflow tracking and boring communication systems.
Focus Booster: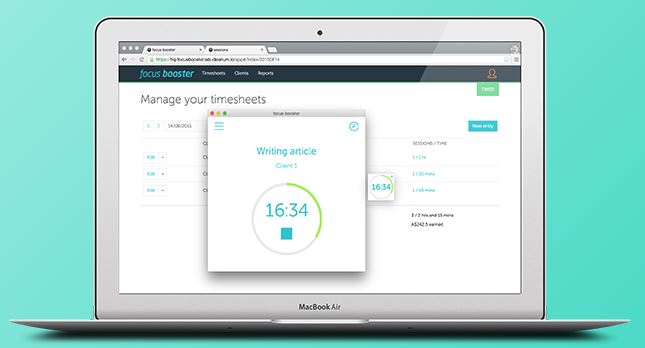 Focus Booster is a productivity promoter. It enables you to manage your work faster and with less effort. You set certain time for each task throughout the day. Tasks are intruded by a short break. Each 25 minutes are a Pomodoro. After four pomodoros you can have a 15-20 minute break. Marking each Pomodoro you finish keeps you organized and fresh. The true mastery of the technique eases your tension, keeps you focused and of course you are always accomplished. The application is ideal for both, very systematic individuals and kings of procrastination… We know that they are everywhere!
Rescue Time: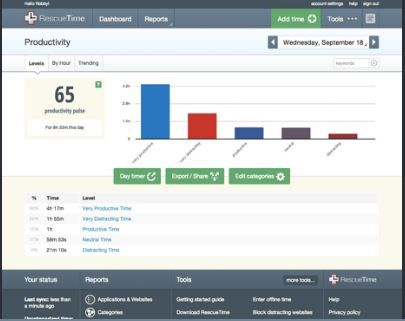 Another smart software to organize your time and stay productive. Rescue time takes it serious about focusing on your time. The app helps you to spend your time in the most effective way. You have detailed reports to show you how much time you spend to accomplish every task. In addition to weekly E-mail summaries and setting goals for the day. An automatic grouping of activities by a unique feature shows you a productivity score. The software enables you to block distracting sites and to receive reminders with daily priorities.
Google Drive: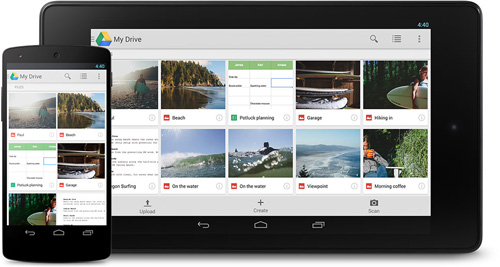 Because who on Earth does not need storage?! Google Drive is your smart online cloud. It enables you to keep all your documents and business content in one place. Moreover, it collaborates between teams and makes it easier to communicate. You can store any kind of content and it is accessible from anywhere. Google drive comes with plenty of features so you can manage your business better. The drive provides you with documents, sheets and slides. In addition to forms and drawings. It also provides you with a unique feature of documents, letters and receipts scanning and automatically storing them as PDFs. Google drive is an effective solution to store, organize and share documents.
Clear: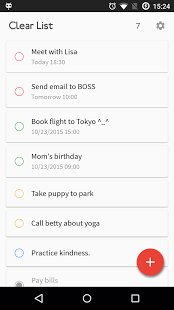 Clear can be an innovative solution for busy people. In addition to people who drop out tasks and meetings. The app can provide you with easy to-do lists with an elegant interface. Because you get productive once you organize your tasks. The iCloud sync built-in enables you to manage your work from anywhere. You can also set reminders and personalize your lists. Clear works as an exterior brain; it offers you task management, free form notes, easy reminders, devices syncing. In addition to, many other smart features that keep your vision clear.
FormMobi: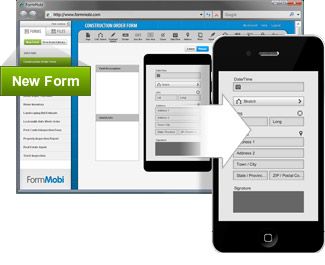 FormMobi is applicable for small groups to build their own platforms. You share flexible forms and enjoy unmatched security. The app simplifies the process of creating forms that all your team can access from their devices even without connection. You can apply changes to your forms, upload them and review or analysis them anytime. FormMobi promotes the workflow of your business. The app offers innovative data gathering and sharing.
InDinero: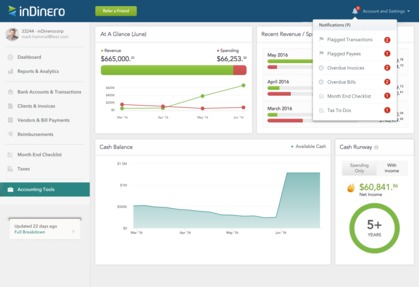 The structure of this app assists you to grow your small business. In addition to its project management features, it also works as an accounting software. InDinero helps you to manage all administration tasks. This includes boring and burdening accounting and taxes business. The app can save much money for startups and small businesses. It highly organizes time and saves hours in order to accomplishing heavy tasks. It is essential to bring your finances together and InDinero grants you this.
HootSuite: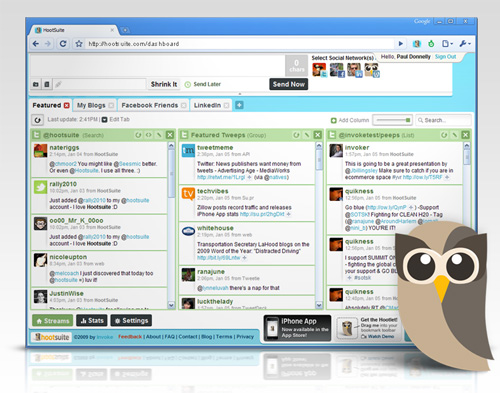 Social media became part and parcel of the modern business lounge. HootSuite is a perfect app to manage all your social media accounts in one place. It definitely helps you save time and boost productivity. You keep connected with your customer without wasting your time or procrastinate other duties. The main idea of the app is to do more with your social media accounts in less time. Managing all your social media from a single dashboard will automatically make your more effective, organized and will save your time. You can track workflow and protect yourself from security threats. HootSuite makes managing social media faster, smarter and safer.
Fantastical 2: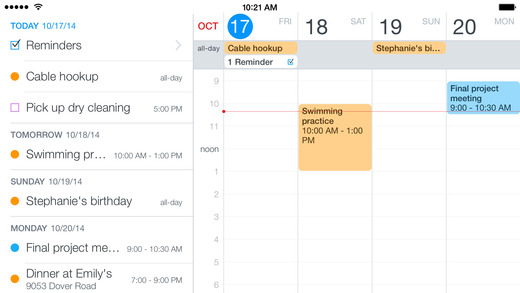 As it name implies, this app is fantastic! The Apple design award 2015 winner is a handy calendar app with beautiful design. You will love working on it; it is smart, convenient and flexible. You can add your events and reminders and write them in your own style. The app lends you a hand to focus on what is important in the moment and you can also enjoy a variety of calendar settings including location, contacts and reminders. Editing and viewing your events and reminders will help you maximize your productivity. Create new events, reminders list and to-do-lists easily and efficiently. The app can integrate with all your calendar accounts. Full of conveniences and gives you power.
Time management apps can definitely save your time and promote your productivity. This suggests working from a list, organizing tasks by priority and time planners. Managing time can be very complicated. However, modern technological innovation offered time management and task organization brilliant ideas. Realizing deeply that the present moment is all you will ever have, find out IMMEDIATELY the best apps to save your time and customize them to suit your needs.