ClockIn Portal Lets You Work From Any Place In the World
Working from home? Or remote work is becoming increasingly trendy? Want to track working hours of your employees? Get ClockIn Portal on your phone and track working hours, the easiest way. Because who would not love a job where everything is easy and time is tracked automatically. Anyway, the future work may not require office plans, just pure technology.
ClockIn Portal Mobile Time Tracking App
A Clock In Clock Out App for All Smart Phones
Now your simple online time tracker that everybody loves is available on iPhone and Android. Enjoy the same features of ClockIn Portal using your mobile phone. Clock in and out using your timesheet app, track lunches and write a short note for each shift. You can also report miles or kilometers for reimbursement to be enabled by an account administrator. ClockIn Portal offers you easy setup and access points. In addition to integrations, payrolls and unlimited free support, all this is within the reach of your mobile phone. Clock in from any place!
iPhone Time Tracker
Promising to replace every other device on Earth, iPhones managed to take place in many unusual yet inspiring uses. iPhone can help you survive the most dramatic situations, like calling for ambulances and surviving earthquakes. You can also use iPhone to monitor your kids, warm your hands and mix a pocket DJ. That is why it is no surprise that now you can sign in for work and track time using your iPhone. ClockIn Portal is your perfect iPhone time tracking, clock in clock out app that lets you do clocking in and time tracking on the spot.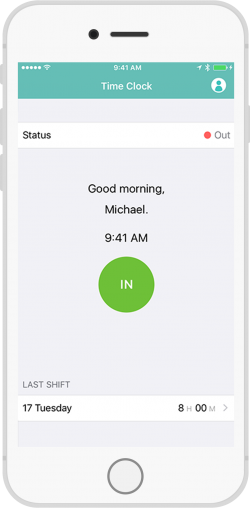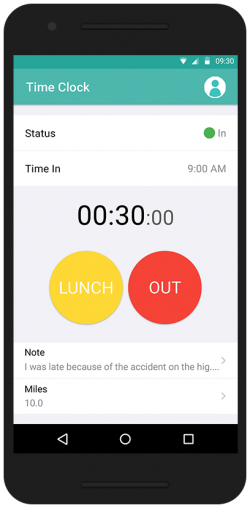 Android Time Tracker
Android is the most widely used mobile phone operating system. Finding the best android timesheet app to meet your time management needs just got easier. ClockIn Portal helps corporates to manage their teams, track working hours and maintain productivity… Just push button simple. Employees can clock in and out using their phones and add breaks, expenses and notes. ClockIn Portal comes with a bunch of features that make it really easy for both employers and employees to have full control over work. It is the clock in clock out app everybody will like to use.
No More Manual Timesheets and Payrolls
ClockIn Portal's mobile timesheet app is your magical solution to data entry and time consuming paperwork. It enables you to generate reports and timesheets based on the data stored. Keeping a digitized track of employees' working hours leads to a better administrative efficiency. It will also have an impact on accurate payrolls. No more paperwork… Better administrative and financial performance… Better work quality and a better work environment. It all starts from every employee's smart phone.